Performance Log Finishers is committed to helping you repair your cabin from the devastation that rot has caused. Check out the helpful pointers on this page and follow up by contacting one of our team members so we can begin restoring your home to its natural beauty.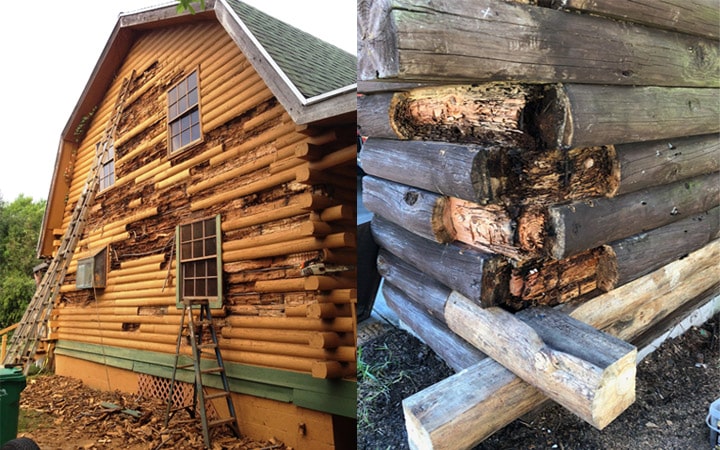 Log Home Renovation Projects
Log rot can destroy a log home's appearance and structural integrity and is a maintenance issue that log owners should address as soon as possible. Performance Log Finishers can help you identify log rot and decay and repair the damage it causes to log homes.
The Primary Locations of Log Decay:
Cracks in Logs, also known as "Checks."
Gaps in Butt Joints
The Bottom Few Logs closet to the ground.
Around air conditioner units
Around improperly sealed windows and doors
Under solid stain/paint on home
Behind shrubs that are not at least 3ft off log structure.
Those Pesky Log Rot Organisms
The organisms that cause log rot need warm temperatures (between 60 and 90 degrees Fahrenheit), plenty of oxygen, and 20% or more of a logs fiber to be moist. They also need fuel that the rot organisms unfortunately find in the wood that makes up your log home's primary building material.
The Worst Types of Log Decay Organisms
Mildew is associated with moisture and is often found in bathrooms, laundry rooms and under kitchen sink. Mildew is usually powdery in texture and can be white, brown, yellow, gray, green or black in color.
Sapstain, also known as blue stain, may be present in logs when they are cut down or milled. Sapstain can cause a red, brown, blue or back coloration that can involve many hues. Such logs should be properly sealed to prevent decay.
Brown Rot is the main cause of decay in log homes. In early stages it forms white spots but later it turns brown and can cause wood to become soft and crumble.
Dry Rot, like brown rot, is a form of wood rot that can spread quickly. Dry rot can infect dry wood but still needs moisture to spread and grow.
White Rot may make wood look bleached and is most commonly found in hardwoods.
Pocket Rot is usually visible as white specks on the surface of logs.
Soft Rot is usually a shallow form of rot found in badly weathered wood.
Recommendations for preventing all types of log rot:
Maintain a good finish on the exterior logs with breathable stain.
Elevate the home to keep it off the ground.
Have adequate roof overhangs.
Use gutters and keep them clear and working.
Keep chinking between logs in good condition.
To get your log home restored and looking like it has never seen a single season in the south, contact
Performance Log Finishers by calling 800-781-2551.
WHAT PEOPLE THINK

ABOUT US
"Performance Log Finishers had excellent workmanship in a very timely manner. I was very satisfied with the value for the price, quality and appearance. They were very flexible with their pricing, terms and agreements. There crew members were very polite, knowledgeable and trustworthy on the job. They always left the job site cleaned when leaving at the end of the day. I was very pleased with all phases of my little piece of heaven"
"Performance Log Finishes, LLC 2130 Pine Tree Drive Edgewater, Florida 32141 Attention: Ian Wenzel
Dear Ian,
Once again, I want to thank you for such an excellent experience in dealing with you and your friendly conscientious staff. Your crew was courteous and left everything tidy each day. The job started on time and in spite of adverse weather finished in a timely manor. We are most pleased with every aspect.
In the future please feel free to use as a reference."