Log Finishes and Sealants
Performance Log Finishers uses advanced finishing and sealing treatments to guarantee that your home will remain beautiful and weather-resistant for years to come. Read more about our methods below and how our certified applicators can help preserve your home against the harsh elements.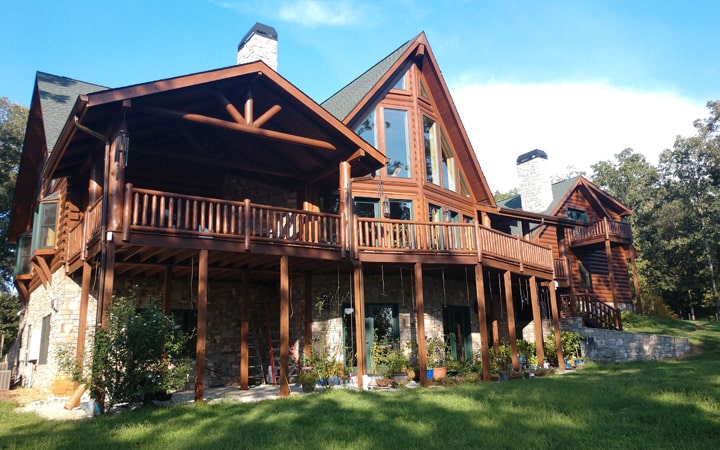 Exterior log home finishes and log sealants can make your home look its best and protect it from the punishing weather mother nature gives us. A good finish will provide protection from UV damage, water damage, mold and mildew. Performance Log Finishers uses advanced log sealing and finishing products to make your log home beautiful and weather resistant. Using the high quality log home finishes your home will gain the following benefits:
Provide the best-looking finish and distinguish your home by highlighting the grain and texture to bring out the natural beauty of your wood.
High-performance polymers encase the wood fibers in the logs to protect the surface, where protection is most needed.
A flexible coating expands and contracts to accommodate seasonal expansion and shrinking of the logs.
Pigments and Ultraviolet (UV) inhibitors help extend the life of the finish and provide long-term protection against harmful UV rays.
Traditional Finishes Can Damage Your Log Home
Conventional exterior finishes build up layer after layer of pigment on the wood, making your house darker each time you apply another maintenance coat. More advanced finishes give you the choice during maintenance coats to use pigmented and/or clear topcoats. Advanced stains breathe to allow the wood to dry naturally as they protect wood from absorbing moisture from rain and humidity, which also helps to minimize checking.
Professional Perma-Chink Applicators
Professional Log Sealant & Finish Application
Contact Performance Log Finishers by calling 800-781-2551 to apply a new coat when your finish has lost its sheen or it no longer repels water. Remember, it's not always necessary to refinish your entire log house. Maintenance coats can be applied to only those walls where it is required.
To get your log home restored and looking like it has never seen a single season in the south, contact
Performance Log Finishers by calling 800-781-2551.
WHAT PEOPLE THINK

ABOUT US
"Your employees were professional & hardworking. They tried to be as un intrusive as possible and were patient & good natured about our "herd" of dogs, who would not stop barking at them. Most importantly, they did a great job!! Very please with your work…."
"Performance Log Finishers provided excellent artistry in a very timely manner. I was delighted with the value for the price, quality, and appearance. They were very flexible with their pricing, terms, and agreements. Their crew members were very polite, knowledgeable, and trustworthy. They always left the job site clean when leaving at the end of the day."