It's something you never want to experience: finally taking your long-anticipated vacation to your log cabin in North Carolina, only to find that it's damaged. Perhaps it has dry rot, or mountain snow and winds have destroyed the roof, flooding the insides. It can turn your dream getaway into a nightmare.
At Performance Log Finishers, we are experts in quickly restoring and renovating log homes throughout North Carolina. From roof repair to log replacement, our staff can quickly assess your cabin's needs, make the necessary repairs and return your vacation retreat to its original beauty. We also offer a variety of year-round maintenance and inspection plans to help ensure your dream vacation will never begin with your cabin home in ruins.
At Performance Log Finishers, we serve residents throughout North Carolina, including:
Charlotte, NC
Raleigh, NC
Greensboro, NC
Durham, NC
Winston-Salem, NC
Fayetteville, NC
Cary, NC
Wilmington, NC
High Point, NC
Jacksonville, NC
Asheville, NC
Greenville, NC
Gastonia, NC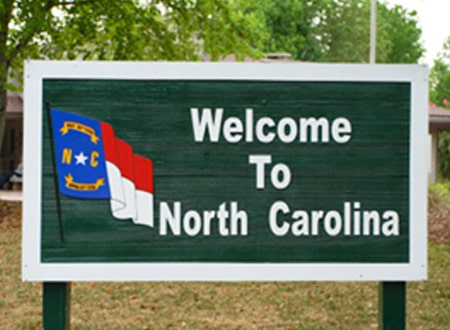 If you don't see your community here, please call us. Chances are, we serve your area.
At Performance Log Finishers, we're a family-owned business that takes pride in our long history of customer satisfaction. Call us at 1-800-781-2551 today to learn how we can restore your North Carolina log home to the vacation home of your dreams.
WHAT PEOPLE THINK

ABOUT US
"We would like to thank Performance Log Finishers for the wonderful job they did restaining our two story log home in North Carolina. The job went well from start to finish. The quote provided was in writing, and very detailed. Ian answered all of our questions promptly, and returned out calls quickly. The crew arrived early in the morning, and worked hard all day, every day. It amazed us how they continued with such a strong work ethic, despite very cold weather and even light snow. The crew finished on time, and the cabin looks beautiful. Thank you so much, Performance Log Finishers for a job very well done! So different from past experiences. We highly recommend you."
"To the staff of Performance Log Finishers: From the Wilsons – NC, delighted customer. I am offering a short note to let you in the office know that our home is now "ship shape" since your crew, with Carlos at the helm, performed in a first-class manner. The damage to our 40-year-old, "antique" style pine log house was challenging. The crew was prompt, professional, and skilled. My years of experience designing, building, and selling up-scale homes permit me to judge the job. Please pass this complimentary report on to the crew, and let them know we are pleased. We are sure that the office staff deserves a big "thank-you" as well."