Your log home may be in need of a variety of different repairs, from a simple cleaning to an in-depth finishing process. Read below about the things to look out for and contact us today to get the process started in making your cabin shine like it did when it was brand new!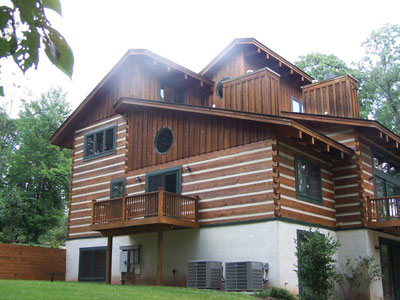 Log Home Renovation Projects
Performance Log Finishers offers
expert log home restoration services
that can bring a damaged or neglected home back to life. Your log house can shine like the day it was new. To prevent problems from causing even more damage to your log cabin
contact us
at
800-781-2551
if your home has indications of any of the below:
Structural damage
Damaged Logs
Insect damage
Log rot
Fading Logs
Missing or Cracked Chinking
Greying or Mildewed Logs
See the complete log home restoration process by watching this video.
Often clients see amazing results from our
low-pressure cleaning
and
media blasting
of surfaces that can remove many years of dirt, grime, and dead wood fibers. This will start allowing you to see the beautiful home you'll find at the end of any complete cabin restoration.
The exterior of your house needs the right protective log home sealants and finishes. If your home has not received care and attention in recent years call us for a log home inspection this can quickly determine if your home needs any repairs or maintenance needed.
Call us at 800-781-2551 to find the log cabin restoration expertise you need to recover your home's structural integrity and revive its natural beauty. Over decades of work, our team has expertly worked on hundreds of cabins, log structures, and log home restoration projects.
When logs need to be replaced, Performance Log Finishers can match the same method, style, and precision used to build the original home or building.
Contact us today by calling 800-781-2551 to learn more about how we can help restore your log home.
To get your log home restored and looking like it has never seen a single season in the south, contact
Performance Log Finishers by calling 800-781-2551.
WHAT PEOPLE THINK

ABOUT US
"Performance Log Finishers had excellent workmanship in a very timely manner. I was very satisfied with the value for the price, quality and appearance. They were very flexible with their pricing, terms and agreements. There crew members were very polite, knowledgeable and trustworthy on the job. They always left the job site cleaned when leaving at the end of the day. I was very pleased with all phases of my little piece of heaven"
"Thank you and all of the team at Performance Log Finishers. What a great improvement we have made in this house. Everyone was professional and the crew worked like Trojans. If you need me as a reference please let me know. I highly recommend Performance Log Finishers. I enjoyed working with you throughout this project. Thanks again."