When damage to your home has become so severe to require the replacement of one of the structural logs, Performance Log Finishers is here to help. Take a look at the important details on this page and contact us to get started on the process of inspecting and repairing your cabin.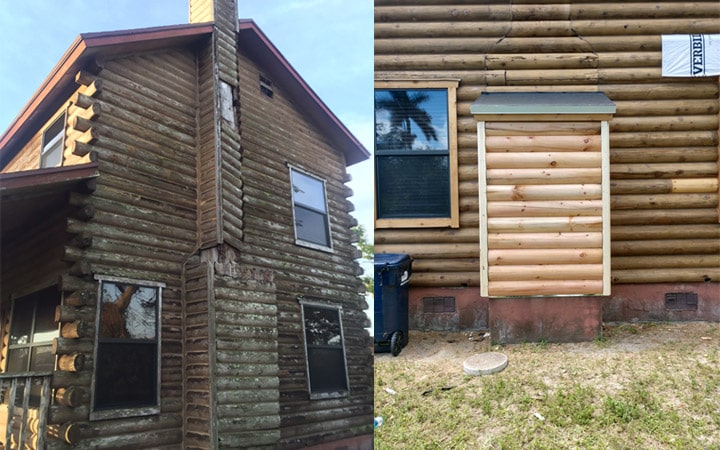 Log Home Renovation Projects
Performance Log Finishers offer several log repair routes from surface repair, partial log, and full log replacement.
Superficial Surface Damage
Some damaged logs can be repaired by injecting epoxy products that reconstitute rotted wood fibers, especially if the damage is close to the surface and not structurally significant. Rotted log ends can sometimes be repaired by using epoxy fillers and impel rods. When rotting is bad enough even these steps are not sufficient to repair a log, the best solution is partial or full log replacement.
Full Log Replacement
Full log replacement is far more complex than partial log replacement and is normally only done by experienced log home repair experts. The type of wood, size and shape of the log must be matched to ensure the best look and fit. Full log replacement can impact the structural integrity of the entire home, so expert planning and careful use of the right tools is essential.
Log Ends
Log ends can become saturated with water from lack of gutters on home or proper check maintenance which may cause log ends to rot. Here at Performance Log Finishers we can remove and replace corners to prevent rot from spreading into your log walls. Ask us about log end sealing to prevent this from ever happening to you home.
Performance Log Finisher experts have completed hundreds of partial and full log replacement jobs on almost every kind of log home. Call
800-781-2551
today to
schedule an appointment
for a log home inspection on repairs to your log home.
To get your log home restored and looking like it has never seen a single season in the south, contact
Performance Log Finishers by calling 800-781-2551.
WHAT PEOPLE THINK

ABOUT US
"Performance Log Finishers had excellent workmanship in a very timely manner. I was very satisfied with the value for the price, quality and appearance. They were very flexible with their pricing, terms and agreements. There crew members were very polite, knowledgeable and trustworthy on the job. They always left the job site cleaned when leaving at the end of the day. I was very pleased with all phases of my little piece of heaven"
"I just want to thank you as I will thank the guys – the experience with them was nothing but wonderful. They were professional, informative and just great to talk to.
Thanks again and have a wonderful holiday season."