After a hurricane, tornado, or violent thunderstorm, our team at Performance Log Finishers is here for you to conduct an inspection and discuss possible repairs for your log home. Read below for signs to be aware of and how we will work with you every step of the way following a storm.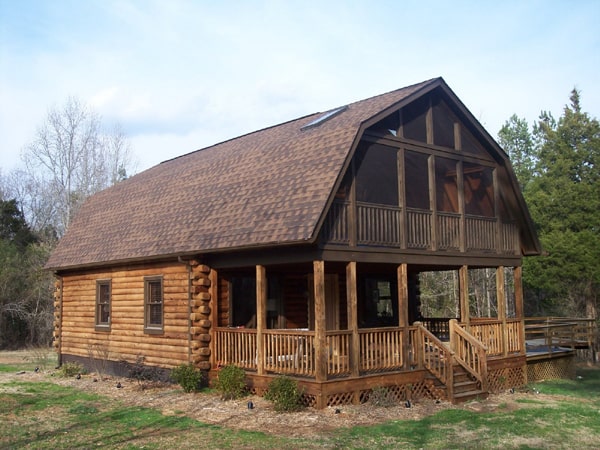 During the hurricane and storm season many homes in America's southeast are damaged. Thankfully log homes are strongly engineered and usually stand up very well to violent winds, torrential rains and pounding hail. There are numerous accounts of log structures that remain standing when a storm destroys everything else in the immediate area. Even the most stoutly built home will take some damage during a storm, log cabins being no exception. After a strong storm or hurricane it is important to inspect your home for damage or call us at 800-781-2551 for a onsite inspection by one of our log home repair experts.
Typical Cabin Damage Done By Strong Storms
While log homes stand up well to storms, they may be damaged when subjected to mother nature's fury. After a strong storm you should look for certain things. Performance Log Finisher's will set up an onsite visit to meet with you immediately if you see any of these items listed below:
Leaks in the roof or between logs
Logs that have been damaged by flying debris
Loose shingles, gutters and roofing material
Cracked windows
Windows and doors that don't close or open easily
Water that does not bead on the exterior logs
Soil that has been piled against the house
Logs that seem wet or water logged
Chinking that is cracked
The deck is not level or has shifted
Gaps between logs
Mildew or rot on logs
Log Cabin Storm Damage Repair Services
If you have found damage to your log home please call us immediately. We will come to your location and perform an inspection generating an estimate for repair if needed. We will even support you as you work with your insurance company, and make sure that your home is put back to the way it was before the storm or hurricane. Our goal is to ensure your happiness, so we have partnered with many companies to not only give you the best repairs, but also make sure they are done at the lowest cost possible.
Performance Log Finisher's experts have completed hundreds of storm and hurricane damage repairs to all types of log homes. Visit our testimonials page to see what others say about us. Some of our past customers welcome you to call them to find out more about or service.
To get your log home restored and looking like it has never seen a single season in the south, contact
Performance Log Finishers by calling 800-781-2551.
WHAT PEOPLE THINK

ABOUT US
"I just want to thank you as I will thank the guys – the experience with them was nothing but wonderful. They were professional, informative and just great to talk to.
Thanks again and have a wonderful holiday season."
"Thank you and all of the team at Performance Log Finishers. What a great improvement we have made in this house. Everyone was professional and the crew worked like Trojans. If you need me as a reference please let me know. I highly recommend Performance Log Finishers. I enjoyed working with you throughout this project. Thanks again."