To enhance the comfort, preservation, and resale value of your log home, consider using our team at Performance Log Finishers to chink the exterior of your structure. Read on how we use the proper tool and materials to get the job done right, satisfaction guaranteed.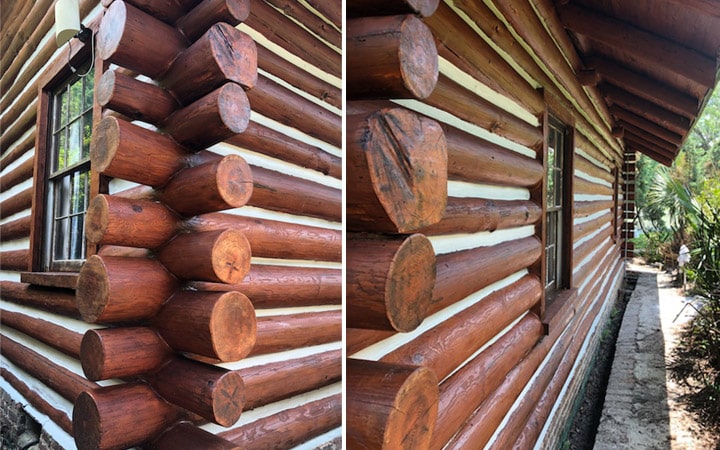 Log home chinking can be done during
construction
or years later to keep the interior warm and airtight. Chinking conserves energy and protects your log home from
insects
and
log decay
. Modern acrylic chinking is long lasting and involves little maintenance. Applied properly,
Chinking can enhance the comfort, preservation, and resale value
of your home.
Performance Log Finishers is authorized as an applicator by leading chinking suppliers and uses advanced chinking materials to seal the open gaps between logs to eliminate heat loss and air infiltration. Advanced acrylic chinking adheres to logs and stretches to maintain a tight seal by following log movement.
Considerations Before Chinking
Log Preparation: Log surfaces must be clean, dry and free of foreign material. If needed low-pressure washing or Media blasting may have to be done first.
Very hot weather and high humidity or very cold weather can impact application of chinking.
Two Point Adhesion is required to maintain a seal while retaining the ability to stretch and contract with log movement. Chinking and sealant products must be applied in a manner that allows good adhesion to the two wood surfaces. This may require the use of backing materials.
To maintain a good seal and allow log movement you must create an adequate sealant reservoir. The larger the sealant joint width, the less likely log movement will exceed the sealant's capabilities.
Elastomeric sealants can blister when applied over an inappropriate surface such as certain previously applied sealants, improper backing materials or a hot surface. Selecting the correct backing material is critical for proper performance.
The Right Tools For The Chinking Job
Only the highest quality tools are used to chink your log home.
Grip Strip and Backer Rod in various sizes for all types of log styles.
Hot knives and blades for cutting expanded polystyrene (EPS) board.
Large and small applicator bags.
Manual and air powered bulk loading guns and accessories.
High quality caulking guns.
Powered chink machines for large jobs.
A wide range of trowels, spatulas and brushes.
Chinking is time-consuming and requires expertise to apply correctly. The experienced Performance Log Finishers team members say chinking can be one of the most important tactics for protecting log homes. Contact Performance Log Finishers to learn more about chinking your home by calling 800-781-2551 today.
To get your log home restored and looking like it has never seen a single season in the south, contact
Performance Log Finishers by calling 800-781-2551.
WHAT PEOPLE THINK

ABOUT US
"We highly recommend Performance Log Finishers; they did everything they promised and more. They were very easy to work with and great attitude, from owner and all the workers. They had great workmanship and quality."
"We highly recommend Performance Finishers; they did everything they promised and more. They were effortless to work with from start to finish. All team members, from the office staff to the team completing the repairs, always showed up with a positive attitude, excellent artistry, and quality."