Log Cabin Construction Services
From a tiny log home to a massive cabin, Performance Log Finishers is here to make your construction project a success. Read about some of the ways that we focus on assisting you with your build and contact us directly to learn more.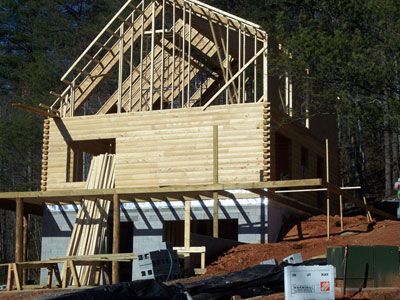 You can get access to our many years of experience building and managing construction of virtually every type of log home, including homes as large as 6600 square feet and as small as 352 square feet.
Log Home Dry-In Services
Our log cabin construction services include "dry-in" services focused on building just the basic log structure and external shell as well as a "turn key" service that involves all aspects of construction of a finished log home or cabin. A combination of services that might include work on log home interiors and finishing details is also common.
Dry-In Service Includes:
Managing offloading, receipt and inspection of the log package.
Construction labor, equipment and supervision of assembly of the log package, including all exterior portions of the log home, according to design plans and drawings.
Installation of window, exterior doors and roofing.
Installation of first level sub-floor and porch decking if required.
Additional services can include:
Site clearing, grading and foundation.
Site access, including driveways.
Exterior and Interior Log Chinking.
Painting, Staining, Finishes.
Turn-Key Services.
To get your log home restored and looking like it has never seen a single season in the south, contact
Performance Log Finishers by calling 800-781-2551.
WHAT PEOPLE THINK

ABOUT US
"I hired Ian and his crew to repair, Chink, And stain my log home, His work was outstanding. He paid very close attention to the smallest detail and restored it to it's original condition. He is very organized, each person has his own part of the job to perform and they do it like a precision machine.
Ian starts work early each day and works late until the job is completed. Also, he is not one to add on cost as the job progresses unlike some contractors as they go through the job they say well you need this and you need that, and this will be extra cost. Ian does not work that way. He took a real good look at the house in the beginning, gave us an estimate for the entire job from start to finish and he stood by it. The estimate he gave us, Is the price it cost us. We were very happy with the results, The house came out Beautiful. I would recommend Ian to anyone who owns a log home. If you have any questions on Ian's ability or performance, Please feel to give me a call. At 352-629-3849."
"To the staff of Performance Log Finishers: From the Wilsons – NC, delighted customer. I am offering a short note to let you in the office know that our home is now "ship shape" since your crew, with Carlos at the helm, performed in a first-class manner. The damage to our 40-year-old, "antique" style pine log house was challenging. The crew was prompt, professional, and skilled. My years of experience designing, building, and selling up-scale homes permit me to judge the job. Please pass this complimentary report on to the crew, and let them know we are pleased. We are sure that the office staff deserves a big "thank-you" as well."