Whether you are starting your own DYI construction project or want a licensed contractor to complete the build for you, Performance Log Finishers has all the resources you will need to successfully finish your own sturdy and attractive log cabin.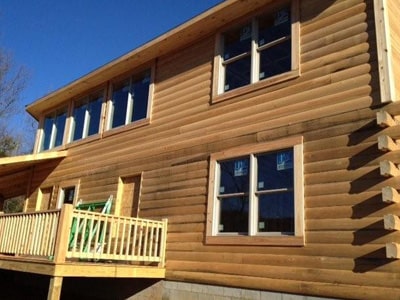 Log home contractors can make the log home construction process much less difficult and time consuming. A good contractor can ease the burden involved with scheduling, hiring sub-contractors, buying materials and supplies, as well as overseeing the entire physical log construction process from land excavation to landscaping.
Do-It-Yourselfers Sometimes Need Help Too
Some new log home owners choose to become their own "log cabin contractor" and sometimes need help with certain parts of managing their log home construction project. As an "owner contractor", you may need experienced project management and scheduling help.
Gain Access To Many Log Home Subcontractors
Other owners may choose to work with a Performance Log Finisher partner licensed general contractor. Working with a professional log cabin contractor usually gives you access to a network of specialized log home subcontractors.
Get Your Log Home Built Right
To get your project start right, or even if you are deep into the project to only find you need help, call us at 800-781-2551 or send us an email now. We would love to provide our expert log home construction management services to you in any phase of your building project.
To get your log home restored and looking like it has never seen a single season in the south, contact
Performance Log Finishers by calling 800-781-2551.
WHAT PEOPLE THINK

ABOUT US
"I just want to thank you as I will thank the guys – the experience with them was nothing but wonderful.They were professional, informative and just great to talk to.
Thanks again and have a wonderful holiday season."
"Thank you and all of the team at Performance Log Finishers. What a great improvement we have made in this house. Everyone was professional and the crew worked like Trojans. If you need me as a reference please let me know. I highly recommend Performance Log Finishers. I enjoyed working with you throughout this project. Thanks again."