Our team at Performance Log Finishers is dedicated to helping you learn everything you need to get started on a new build and care for your existing log cabin for years to come. Take a look at our following tips and contact us if there is a topic that you would like us to address.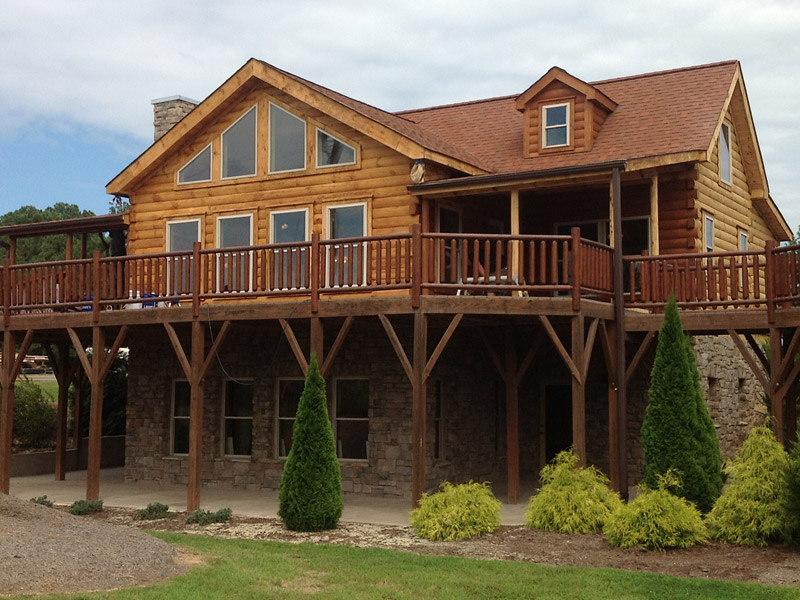 There is no denying that the kitchen is the epicenter of every home. Therefore the kitchen design deserves careful thought and planning. Log homes have diverse designs and even the kitchen style can be anything from elegant and rustic to modern and bold and everything in between. It can exude the classic rustic charm with an all wood design that is commonly associated with log cabins or it can be really contemporary and versatile. Log cabin kitchen designs are limited only by your imagination and the personality you want it to showcase. Log home kitchens can embody any aesthetic you want it to – it's all in the details from the appliances, the countertops, the cabinets, the flooring to the lighting and the layout. You can even play around with texture and color combinations, to come up with whatever kitchen style you want. Here is our list of some popular design trends associated with...
Questions You Should Ask Before A Log Home Restoration
Performance Log Homes recommends that you should know the answers to these questions before beginning on the restoration project of your log home gets for the best results.
Who is the manufacturer of the log package?
What species of log has been used?
Have additions been made to the original structure?
What materials have been used in maintenance applications so far?
Who constructed the structure and how old is it?
Are there any known problem areas? Any known coating or sealing failures?
What should the structure look like when you're done?
What is your workable budget to restore my log home?
Is there a priority list for the work?
The most important three questions that you should be clued in on before a log home restoration project are:
What methods are used to remove the existing finish?
What is the estimated cost of a log home restoration?
How long does it take to finish restoration work?
What Methods Are Used To Remove The Existing Finish?
The three methods currently in use for removal of any existing finish on your log home are sanding, media blasting or sanding and each offer unique benefits.
Ozzying (Sanding) uses an osborne brush or buffing pads at changing speeds of right angle grinder.
Media Blasting is performed with corn cob granule, glass, walnut shells, or food grade baking soda.
Chemical Strippers -This step of removing an existing finish from your log home requires the greatest amount of time in the restoration project. It is very important to get this right and strip off any existing finish completely so that you have a clean canvas to work on.
As a log home owner, do due diligence before selecting one of these methods. You will need to work out which method would suit your budget and needs best. When hiring a pro, do check out the contractors past work to get a clear picture of what the end result may look like.
Most people are attracted to wood or log home because of the warmth, beauty and cosines it inspires. When you are building a new log home, keep in mind energy efficiency besides durability and natural beauty of wood. Log homes have been around forever, which shows its staying power when constructed properly. Log homes are more environmentally efficient being made of natural and renewable wood. Homes can be built using green methods, as in logs produced locally or using wind or fire-killer timber or log manufactured using smaller wood and insulating material together. Besides the quality of log, insulation along the logs is another factor in making an energy-efficient home, which can be achieved either by building a wall on the inside of the log wall or insulating the roof with methane...
Latest numbers show that over sixty percent of all new homes constructed have at least one fireplace now. Log homes especially are incomplete without fireplaces. Most log home owners love the warm glow of a fire from either a wood stove or fire place. The cold weather seems more bearable with a cozy fire going in the fireplace or wood stove in your log home. Besides adding to the value of your cabin, both are a low cost heating alternative. There is no universal agreement on what kind of fixture is best for a log home, whether an open, wood-burning fireplace fits better or a wood stove the more utilitarian option? Today there are several energy efficient fireplace choices, such as vented and non-vented fireplaces, gas stoves, wood burning stoves and zero clearance fireplaces. Each may be...